KOSU's 2020 Holiday Safety Guide And Community Voices
Updated on December 3 at 11:00 a.m.
The holiday season is right around the corner, and while many families have been looking forward to the opportunity to spend time with one another, many health experts are warning against it.
Health entities like the Centers for Disease Control and Prevention are asking people to consider modifying their holiday traditions to help reduce the spread of the coronavirus.
So, taking into account the safety recommendations from health experts, KOSU wants to know what Oklahomans plan to do for the holiday season.
Do you feel safe to gather with friends and family during the holidays?
Are you going to do a virtual celebration or modify some of your traditions?
Are you going to meet as you normally have?
Let us know by texting the word 'HOLIDAY' to 1-844-777-7719.
Your input as well as any questions you have will be used to continue creating this holiday safety guide.
Please bookmark this webpost and check back to see what you need to do to stay safe and what your fellow Oklahomans are planning to do for the holidays.
--
What are Oklahomans/KOSU Community Listeners planning for the holiday season?
John Boston from Tulsa, Okla. - "My family will not be traveling or spending time with relatives this holiday season. Too many people are dying. It's not worth the risk. Skipping a holiday is a minor inconvenience compared to what others have had to endure in the past in order to survive."
Clara Titus from Stillwater area - "My mom and dad are older, therefore are considered "high-risk" so we'll be bundling up and social distancing around a campfire outside for our holiday meals. Mom is excited about setting the Christmas tree up outside this year. She wants to string popcorn garland and watch the birds eat it off the tree. She said, "Things are going to be different this year, but it sure will be memorable." And I agree."
Todd Brennfoerder from Joplin, Missouri - "My family this year is going camping for Thanksgiving. So we will be having our regular, large family dinner outside at the campground this year."
Bill Overby from Muskogee, Okla. - "Noooo, on the gathering with friends for the holidays... Holiday celebrations are not worth your life. More importantly, they are not worth putting other family members in danger. We (Americans) have had to adjust to so many changes. New ways of working and learning, shopping and going to worship, surely we can find a new way to celebrate this holiday season, so we can sit by the fire and tell stories for years in the future of how we all came together - separately - and saved each other from the threat posed by a tiny little speck of a virus. Wear your masks."
Barbara Williamson from Oklahoma City, Okla. - "...We've both had COVID and fortunately lived through it. Our friends who normally eat with us, I've offered a pass-through in the front porch. I've said, "If it's nice enough, we can do a tent." But they're closer to 70 and they've just declined. So, our Thanksgiving which usually is 6-8 people will be 4 people and 3 dogs. And we will Zoom or FaceTime with our daughter in New York and I said, maybe we can try to do it at the same time and eat while they eat, just to kinda feel like we're with each other. But, long story short, it's a small sacriface in the end. It's nothing like what my parent's did through WWII. My mom didn't see my dad for 2 1/2 years. It's hard to imagine the sacrifice that they incured and it's hard to imagine what we're going through. But, we'll make it. It will be okay."
barbara_williamson_from_okc__okla.mp3
Barbara Williamson from Oklahoma City, Okla. | November 18, 2020
Julia Gingerich from Oklahoma City, Okla. - "I'm planning to spend Thanksgiving day at the home of a mutual acquaintance. They are serving the dinner outdoors. I will not attend, however, if circumstances change and they plan to have the meal indoors."
julia_gingerich_from_okc_ok.mp3
Julia Gingerich from Oklahoma City, Okla. | November 19, 2020
---
Below are some of the safety recommendations from health experts this holiday season, as well as questions we've answered from our community:
What has the Centers for Disease Control and Prevention recommended for the holiday season during the COVID-19 pandemic?
The CDC has asked people to consider modifying plans to reduce the spread of COVID-19 during the holiday season. The CDC recommendations do not replace what any state, local, territorial or tribal recommendations have in place, but are supplements.
KOSU's Allison Herrera has been tracking tribal COVID-19 responses here.
Recommendations for Small Gatherings
These recommendations stem from a worsening COVID-19 pandemic landscape and that one of the ways the COVID-19 virus has spread is through small household gatherings.
Consider celebrating virtually or with only the members of the same household as you (as long as they consistently take measures to reduce COVID-19 spread).
Households include anyone who currently lives and shares the common spaces in your housing unit. Households do not include people who do not live with you during your normal routines, such as college students returning home from school. The CDC says in-person gatherings that bring people together from different households pose varying levels of risk.
Recommendations for Large Gatherings
Organizers and attendees of large events should consider the potential spread the event would have based on the event's size. The CDC has a list of considerations outlined for these types of events that can be found here.
What are the factors that lead to risk of spreading and getting COVID-19 at small in-person gatherings?
There are several factors that increase the likelihood of getting or spreading COVID-19 at small gatherings. If combined together, that further increases the risk of exposure. The factors include:
Community Levels of COVID-19 - Friends and family should consider where the numbers of COVID-19 stand in their communities and in the communities they plan to celebrate with.
Exposure during travel - Places that people use to travel to and from the holidays (airport, bus and train stations, gas stations, etc.) are all places travelers can be exposed to the virus (both in the air and on surfaces).
Location of gathering - Indoor gatherings with poor circulation pose a higher risk than outdoor gatherings.
Duration of gathering - Being within six feet of someone who has COVID-19 for a total of 15 minutes or more greatly increases the risk of becoming sick and requires a 14-day quarantine.
Number of people at the gathering - The more people there are, the greater chance of getting COVID-19. The CDC does not have a limit or recommend a specific number of attendees. Instead, they suggest taking the standard precautions like staying six feet apart, washing hands regularly and wearing masks. They also say to keep in mind any local, state, territorial or tribal restrictions and recommendations that are in place.
Behaviors of people before the gathering - People who do not consistently take social-distancing precautions, wear masks and regularly handwash pose more risk to be around than those who do.
Behaviors of people during the gathering - Gatherings that have the standard safety measures in places (mask-wearing, social distancing and handwashing) pose less risk than gatherings that have fewer or no preventative measures.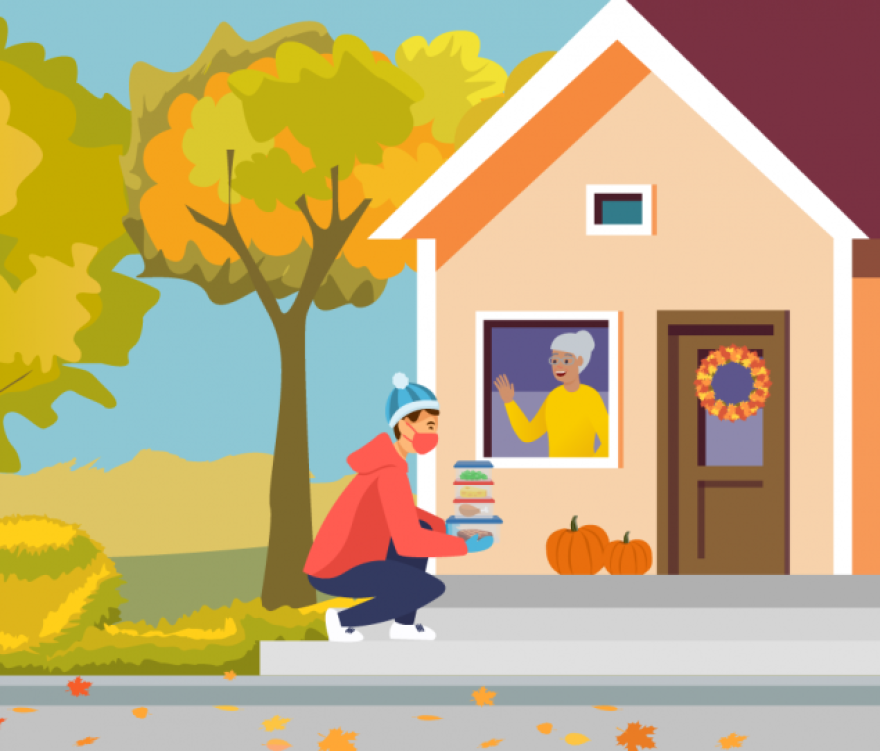 Who should consider not attending in-person holiday gatherings/celebrations?
The two following groups of people should consider refraining from in-person celebrations:
People with or exposed to COVID-19, which includes:
People who have been diagnosed with COVID-19 and haven't met criteria to be safe around others.
People who have COVID-19 symptoms
People waiting for COVID-19 viral test results
People who may have been exposed to someone with the virus in the last 14 days
People at increased risk of severe illness from COVID-19
People at an increased risk for severe illnesses, which includes:
Older adults or people with certain medical conditions who are at increased risk of severe illness.
CDC officials updated COVID-19 quarantine guidelines December 2nd.
Quarantine is different from isolation. Someone who may have been exposed to the virus quarantines by staying away from others until an infection can be determined, whereas isolation occurs when someone is infected.
Previously, CDC officials recommended an exposed individual quarantine from others for 14 days. Here's what CDC officials are now saying:
CDC now recommends two additional options for how long quarantine should last. Based on local availability of viral testing, for people without symptoms quarantine can end:
On day 10 without testing
On day 7 after receiving a negative test result
After stopping quarantine, people should:
Watch for symptoms until 14 days after exposure.
If they have symptoms, immediately self-isolate and contact their local public health authority or healthcare provider.
Wear a mask, stay at least six feet from others, wash their hands, avoid crowds, and take other steps to prevent the spread of COVID-19.
What do I need to know about food and drinks at small holiday gatherings?
The CDC has reminded people that there is no evidence that shows handling food or eating is associated with directly spreading COVID-19. However, it is possible to get the virus by touching a surface or object that has the virus.
What are some free video communication services to use if I am celebrating virtually?
There are now several free options for those wishing to celebrate the holidays virtually. Those include Zoom, FaceTime (Apple users), Google Hangouts and Skype, to name just a few. To find more options, search your app store on your device.
Is it safe to travel this holiday season?
Just one week from Thanksgiving Day, the CDC reported more than one-million new cases of COVID-19 nationwide. Projections from multiple sources predict cases could more than double each week, for the next three weeks. CDC officials have urged Americans not to travel for the upcoming holiday - but if you must, they do have guidelines in place to reduce the chance of contracting and spreading COVID-19:
Check travel restrictions before you go.
Get your flu shot before you travel.
Always wear a mask in public settings, when using public transportation, and when around people who you don't live with.
Stay at least 6 feet apart from anyone who does not live with you.
Wash your hands often or use hand sanitizer.
Avoid touching your mask, eyes, nose, and mouth.
Bring extra supplies, such as masks and hand sanitizer.
Know when to delay your travel.
Keep in mind that the flu season has started and seasonal allergies are also affecting people.
"Travel increases your chance of getting and spreading COVID-19. Staying home is the best way to protect yourself and others from COVID-19," according to the CDC.
What are the differences between influenza and COVID-19?
KOSU wants to make note of the differences and similarities health experts say exists between COVID-19 and the flu.
According to the Centers for Disease Control and Prevention, Influenza, commonly called "the Flu," and COVID-19 are both contagious respiratory illnesses. That means they are spread the same way, by talking, breathing, coughing or sneezing.
But there are key differences between the two. Disease experts think COVID-19 spreads more easily than the flu, COVID-19 symptoms take longer to show than flu symptoms and people infected with COVID-19 are contagious longer than people infected with the flu.
Symptom similarities according to the CDC:
Both COVID-19 and flu can have varying degrees of signs and symptoms, ranging from no symptoms (asymptomatic) to severe symptoms. Common symptoms that COVID-19 and flu share include:
Fever or feeling feverish/chills
Cough
Shortness of breath or difficulty breathing
Fatigue (tiredness)
Sore throat
Runny or stuffy nose
Muscle pain or body aches
Headache
Some people may have vomiting and diarrhea, though this is more common in children than adults
This symptom list by the CDC is not complete, as scientists are still learning about the virus, according to the CDC.
Time-frame of Symptoms
"For both COVID-19 and flu, one or more days can pass between a person becoming infected and when he or she starts to experience illness symptoms," according to the CDC.
COVID-19 symptoms can begin to show as early as two days after being exposed to the virus and as late as 14 days after being exposed. Typically, symptoms begin to show within five days of being exposed. Flu symptoms typically show up one to four days after exposure to the Flu virus.
--