Oklahoma Lawmakers Consider A Raise For Hundreds Of Prison Employees Skipped Over Last Year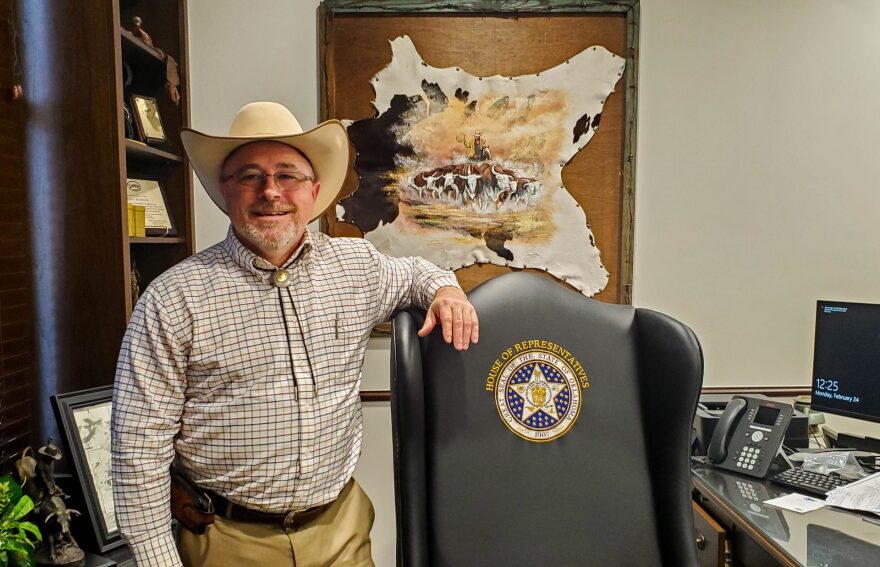 Oklahoma prison employees are among the lowest paid in the nation. Last year, state lawmakers tried to help with a pay increase, but some people got the raise and others didn't.
Low pay is at the center of Oklahoma's struggle to keep its prison employees.
Six-year veteran corrections officer Paul Mullaney quit over pay and working conditions just months after lawmakers approved a $2.00 raise for prison employees. He worked in the mental health unit of Joseph Harp Correctional Center in Lexington.
The extra money wasn't enough to keep him.
"It was just crazy. I mean it was just dangerous and … I (had) enough,"
Corrections officers are often the people Department of Corrections leadership and employee advocates point to when they argue for pay raises.
Agency leaders have long said low pay is a key obstacle in recruiting and keeping the officers who maintain order in Oklahoma's overpopulated prisons.
State prison employees are among the lowest paid in the nation. Department of Corrections data shows in 2018, a new correctional officer started with less than $13.00 per hour.
Higher pay across the country
According to the Bureau of Labor Statistics, the national median wage for corrections officers in the same period was about $21.00 per hour. Lawmakers took note of the disparity and increased pay.
First, they raised wages for state employees in 2018. Then, in 2019, they increased pay for corrections officers by $2.00 dollars per hour bringing starting pay to $15.74 per hour.
But, Mullaney didn't think that was enough money to ask an employee to work 12-hour days each week in hazardous conditions.
"Those wages, that's junk," Mullaney said. "Yes, your health benefits are great and everything, and that's fantastic. But, you also have to live too and it takes money to live."
But, other corrections workers who stayed at their jobs got an unpleasant surprise when the second raise started hitting people's paychecks. Legislators made a mistake. Hundreds of people were left out of the increase.
Hundreds left out of the raise
State Rep. Justin Humphrey was one of the authors of a bill that paved the way for the 2019 raise for corrections officers. He wanted the additional money to go to people who work around prisoners regularly.
But, the Department of Corrections has a complicated way of labeling its employees.
"And what happened when those bills got (taken) over … that language got removed," Humphrey said.
If you read a list of the agency's job titles, you can't always tell the people who work around prisoners from people who don't.
In an effort to make the legislation clearer, the state Senate added language listing the specific jobs people had to work to get the raise. But that left at least 432 people out of the full raise.
Humphrey said he found even more people working around prisoners who didn't get additional pay. He found farm employees and people working in the state's correctional industries – people even his initial bill didn't include.
Corrections asked for new legislation
Department of Corrections Director Scott Crow said in a board meeting last year that he wanted to fix the problem.
But, Crow said his attorneys warned him that the agency could invite a discrimination lawsuit if it gave raises to the employees who missed out. Fearing litigation, the agency and its board asked the Legislature to fix the problem this session.
That's what Humphrey wants to do. He filed a bill that would have corrected the pay inequity, but a House committee chose not to advance the legislation.
A bill in the Senate could accomplish the same thing if both chambers approve it and the governor adds his signature, but it's unclear if it will succeed.
'Slap in the face'
Meanwhile, the officers who didn't get the raise will continue to work alongside those who did.
Former legislator Bobby Cleveland says it's a "slap in the face" for those employees.
"(It's) like you don't count. You're not important," Cleveland said.
Cleveland is the director of Oklahoma Corrections Professionals – a prison employee union. He says after Gov. Kevin Stitt approved the 2019 raise, the Department of Corrections should have adjusted the way it identifies staff, so no one would be left out of the pay increase.
"We're not trying to do anything other than to get them what they deserve," Cleveland said.
Even though hundreds of current employees were left out of the raise, the additional money could be helping the agency recruit new corrections officers.
According to Director Crow, the agency saw an average increase of 63 people applying to become corrections officers each month after the 2019 raise.
Mullaney moved to Washington
Paul Mullaney feels for the officers he left behind when he moved to Washington State, but he says he's happier in the certified nursing assistant job he found there. It pays more, and he says it's less stressful.
"The cost of living is a little higher, but I don't even care," Mullaney said.