Oklahoma Gov. Stitt focuses on McGirt, school choice, tax cuts in 2022 State of the State address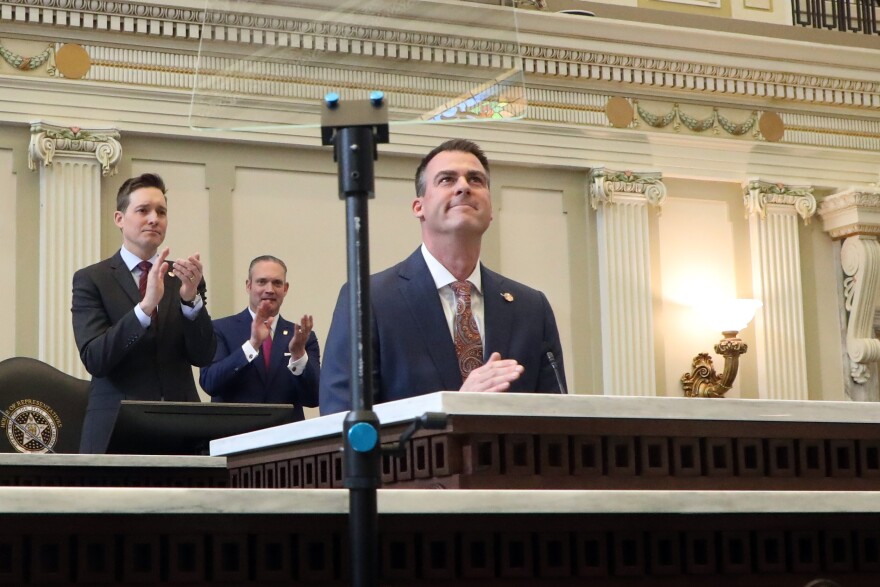 Oklahoma Gov. Kevin Stitt gave his fourth State of the State address on Monday before a joint session of the State House and Senate for the opening of the 58th Oklahoma Legislature.
In his speech, Stitt outlined his priorities for lawmakers this session. Below are some takeaways.
Education
Stitt spent a good portion of his State of the State speech addressing Oklahoma's education system. The governor pushed for raising teacher salaries and creating an education savings account for every K-12 student in the state as his approach to retaining teachers during the state's teacher shortage.
Stitt said he wants the best Oklahoma teacher to make six figures. Including benefits, the average Oklahoma teacher currently makes a little more than $54,000 a year.
The move would retain teachers and potentially fight the state's yearslong teacher shortage.
"That's why I'm proposing matching funds so that our best teachers can make six-figure salaries and stay in the classroom," he said.
Stitt also vowed full support for a measure by Senate Pro Tem Greg Treat to provide an education savings account worth more than $3,000 annually to each student.
Treat's Senate Bill 1647, also known as the Oklahoma Empowerment Act, would allow students to spend that money on things like private school tuition if they don't want to attend their local school district.
"I pledge to support any legislation that gives parents more school choice, because in Oklahoma, we need to fund students, not systems," he said.
Treat praised the governor's support for his bill.
"Education is the key to bringing generational change and breaking the poverty cycle in our state," Treat said in a statement. "All parents should be empowered to pick the school that best serves the needs of their children. Senate Bill 1647 will put parents back in charge of their children's education and help students pursue a great education regardless of where they live."
There are dozens of education reforms the legislature will look at this session. But the governor's message Monday was that school choice initiatives and increasing teacher salaries will be two with his support.
Stitt is also looking to garner voter approval in 2022. One of his gubernatorial challengers, State Superintendent of Public Instruction Joy Hofmeister, criticized his education plans.
"Governor Stitt seems only to notice the needs of Oklahoma kids and families when it's politically convenient," Hofmeister said in a statement. "His voucher plan is a rural school killer and robs funds from the 90% of Oklahoma kids attending public school. Stitt is dismantling public education by handing over millions of taxpayer dollars to fund private tuition for wealthy families."
Eliminating Grocery Tax
During his speech, Stitt singled out his support to eliminate Oklahoma's 4.5% grocery tax.
"Many Oklahomans are already struggling under the weight of record inflation. Let's give them more help this year. Because, after all, we need more taxpayers, not more taxes," Stitt said.
Several state lawmakers on both sides of the aisle have also expressed interest in eliminating the grocery tax and have filed bills this session to do so. Oklahoma has one of the higher grocery tax rates out of the 13 states in the U.S. that taxes groceries.
The policy does have one critic. The Oklahoma Policy Institute says there are better ways to go about providing that relief. The Tulsa-based progressive think tank instead recommends strengthening that Sales Tax Relief Credit for low-income residents. Its eligibility hasn't been expanded since 1998.
In a statement, the organization said that route would focus the relief on those who need it, instead of a more expensive, broad approach.
"Eliminating the sales tax on groceries altogether would cost the state $235 million annually, according to analysis by the Institute on Taxation and Economic Policy," the statement reads in part. "This would harm Oklahoma's ability to provide the public services upon which we all rely, especially considering the considerable cuts in state revenue during the past two decades. Eliminating the state's grocery sales tax could open the door to local sales tax erosion in the future, which would significantly impact cities statewide as sales taxes are a large part of local revenue."
The Oklahoma Tax Commission's 2019-2020 Expenditure Report found that 385,362 people claimed the sales tax relief credit – estimating a total of more than $31.2 million.
Bills filed this session would eliminate the grocery tax on certain items like milk and bread - while not applying to things like alcohol, tobacco, or some prepared food.
McGirt v. Oklahoma
Early in the speech, Stitt took to addressing his views on the McGirt v. Oklahoma ruling by the U.S. Supreme Court in 2020. That ruling said the Muscogee Nation's reservation was never disestablished. Six tribal nations have had their reservation ruled never disestablished, including the Quapaw Nation in northeastern Oklahoma.
He said the ruling has "robbed" Oklahoma of the authority to prosecute crimes.
Stitt claimed two recent McGirt developments as victories – that the Supreme Court agreed McGirt wasn't retroactive and that the court agreed to consider whether the state has the right to prosecute non-Indians who commit felony crimes against Native people on reservation land.
"A win in that case would let the state go back to enforcing law and order and protecting more crime victims in Eastern Oklahoma," Stitt said. "This isn't about winning and losing. This isn't personal. It's not Kevin Stitt versus the tribes. Instead, it's about certainty. It's about law and order. It's about fairness, equal protection under the law, and one set of rules."
Tribal leaders are preparing to take on the state, saying only federal and tribal courts have jurisdiction over felony crimes committed within reservation boundaries.
Oral arguments will be heard by the Supreme Court in April.
Medical Marijuana
Stitt also called on lawmakers to reign in Oklahoma's medical marijuana industry, specifically its role in the black market and the proliferation of grow facilities due to relatively low prices of commercial licenses.
Stitt said when Oklahomans approved State Question 788 in 2018 to legalize medical marijuana, they were "sold a bill of goods."
At least two state question petitions are currently circulating to legalize recreational marijuana.
Stitt also said the industry has caused "major problems" in rural communities. Several lawmakers have written bills this session to address local control, including one that would authorize local governments to restrict the number of marijuana businesses that can operate in that region, and another – House Bill 2989 – that would require grower applicants to win a county-wide majority vote of approval to operate.
Transportation
In his address, Stitt called for a $13 billion investment in transportation over the next decade. He said that investment would include widening the Turner Turnpike to six lanes, as well as expanding Will Rogers Turnpike in Northeast Oklahoma and parts of the Kilpatrick Turnpike in Oklahoma City.
"The future of our economy will depend on having a modern highway system that manages congestion and has reliable travel times," Stitt said.
In addition to the highways and tollways - Stitt also said there would be need to add more access points for communities in Oklahoma's transportation system and promised more details to come on drone corridors and other emerging mobility details later in February.
The ongoing COVID-19 pandemic
While there were partisan mentions of "liberal lockdown states," one notable absence in Stitt's speech was any mention of the more than 10,000 Oklahomans who have died from the virus since the last State of the State address.
Monday's joint session included no COVID restrictions.