Political Pendulum Swings in Former Conservative Stronghold That Launched a Republican Governor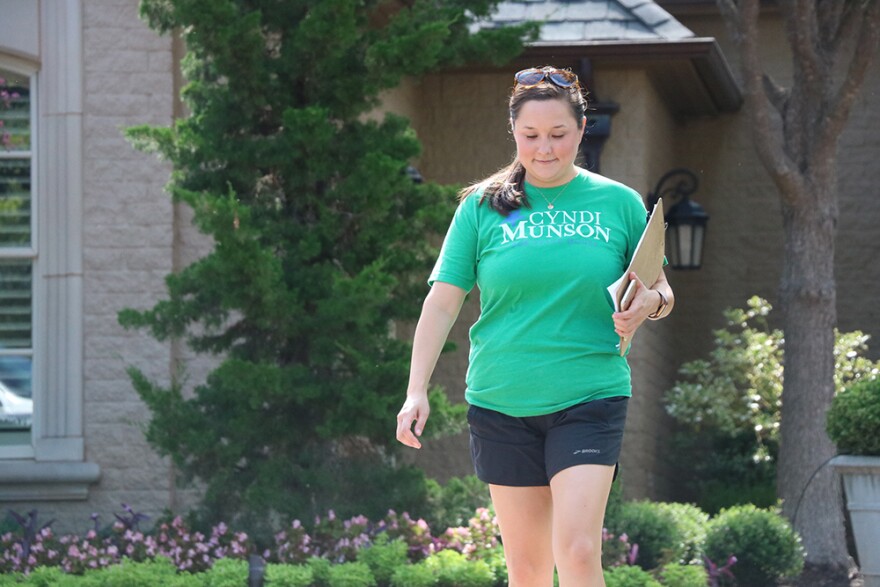 Sue Campbell and her husband David stand under a tree at a dog park along a busy highway near Lake Hefner. Their dog is here, too — a 3-year-old ball of furry energy named Louie.
"Louie is a miniature schnauzer and Staffordshire terrier mix," Sue said.
Sue is an accounting clerk and Democrat. David is a retired Ford salesman and reserve deputy sheriff, and he's a Republican. The couple are long-time residents of House District 85 in northwestern Oklahoma City. For decades, the district was a Republican stronghold. Oklahoma's Republican governor, Mary Fallin, served this district in the Oklahoma House of Representatives in the early 1990s.
David voted for Fallin at each step in her political career —for state House, U.S. Congress, Lieutenant Governor and Governor. For most of her career, he liked Fallin. But lately, David takes issue with some of her choices.
"The last couple of years, I don't know," he said. " She makes decisions I really didn't agree with."
The big one for David is constitutional carry. Fallin in May vetoed legislation that would have allowed Oklahomans to carry firearms without a permit.
"I didn't think that was right," David said. "But generally she's done a decent job."
Sue Campbell is a lifelong Democrat and she crossed party lines to vote for Fallin when she ran for the state House.
"She was much different back then. She was way more moderate," Sue said. "Once she went to Washington, she just drank the ultra-conservative Kool-Aid, and she left her moderate ways."
If Fallin has changed since she first entered politics, so has the district where she started her political career. It's still a conservative district, but it is no longer reliably Republican. And according to a statewide survey conducted by Oklahoma public radio stations for the Oklahoma Engaged project, Oklahoma City and the surrounding counties comprise the only region in the state that views the Democratic party in a positive light.
Jeanette Mendez, a political scientist at Oklahoma State University, says the region is undergoing a political transformation.
"We had such a big wave of Republicans take over the House and Senate. It's kind of nearing the end of that cycle of the pendulum shifting over," Mendez said.
And, she says, the pendulum is first shifting in Oklahoma's metro areas.
"I think we're seeing it with some young Democrats coming in and they have a good ground game," Mendez said. " They are knocking on doors, are really getting out there."
'The highest compliment'
One sign of change is obvious in Fallin's former state House district. The seat is currently held by a Democrat, Cyndi Munson.
Munson walks door-to-door on a Saturday morning in Nichols Hills, ringing doorbells and chatting it up with residents in the affluent Oklahoma City suburb of manicured lawns, curvy roads and mansions.
"Yeah, you look great," Munson tells a resident who warmly greets when she cracks open her door. "I'm running for re-election as you know, so I'm just walking through the neighborhood today and dropping off some information," Munson tells the homeowner as she hands her a brochure.
Munson says people in the district were apprehensive about her at first. She was repeatedly reminded that a Democrat could never win over the conservative district.
Munson lost her first campaign to incumbent Republican David Dank in 2014. After Dank died the following year, Munson won the special election. She later won the general election in 2016. The Democrat kept going door-to-door, and she found traditionally Republican voters who were receptive.
"Last weekend someone said, 'You know, you're the only Democrat I've ever voted for, and I refuse to vote for any other Democrats," Munson said. "That is probably the highest compliment because I realize people do find so much of their identity from their political affiliation, how they vote and who they vote for."
Matt Jackson, Munson's Republican opponent, stands in the shadow of one of House District 85's most noticeable landmarks: an East Coast-inspired lighthouse that peers over Oklahoma City's Lake Hefner.
"This district is still a Republican district. And those that aren't Republicans still tend to be more conservative," Jackson said.
Polling for the Oklahoma Engaged project found Oklahoma City voters identify education as the biggest problem facing the state. Both Munson and Jackson are focusing their campaigns on the issue. But there are differences in the candidates' platforms. Munson voted for a package of tax increases to fund a teacher pay raise. Jackson, however, thinks legislators had other options instead of a tax hike.
"It can be a last resort for me as far as increasing taxes," he said. "If is there no other choice then we can look at it."
Frustration with the governor, or widespread discontent?
Gov. Fallin is term-limited, and her second term ends in January. It's been a rocky road for the Republican governor. A recent national poll found Fallin is the least popular governor in the country with a 74 percent disapproval rate.
Jeanette Mendez, the political scientist, says Fallin's popularity has been dropping steadily for the past few years. She says the teacher walkout dealt it another blow this year.
"I think when you just kind of look across the board, I think people had an expectation that we do more there," Mendez said.
Fallin's office declined an interview request. Mendez says voters often pin many of their political frustrations on the governor, so some of Fallin's poor poll ratings might reflect widespread discontent and not only her job performance.
Mendez says lawmakers are often insulated from the public's political ire. But maybe not this year, as a record number of candidates filed for office, and incumbent lawmakers lost their primaries or were forced into runoffs.