Once Derided for His 'Uptown Blues,' Lowell Fulson Now Celebrated
The Oklahoma Music Hall of Fame is set to induct five new members with its 2014 class this Saturday at Cain's Ballroom in Tulsa.
Blues guitarist Lowell Fulson was born to parents of Choctaw and African-American descent in Tulsa in 1921. He was raised in Ada, playing guitar at church and picnics, before landing a job in 1939 as a guitarist for country-blues singer Alger "Texas" Alexander.
He was drafted into the U.S. Navy in 1943 and served for two years before beginning his recording career. His first rhythm and blues hit came on the Swingtime label in 1948 with the now-blues standard "Three O'Clock Blues."
Fulson hired a young blind touring pianist named Ray Charles in 1950, who stuck with Fulson for several years. He signed up with Chicago label Checker Records in 1954, landing a hit with "Reconsider Baby," which would later be covered by both Elvis Presley and Eric Clapton.
It was at Checker Records where he faced some blow-back from other blues musicians. Founding board member of the Oklahoma Music Hall of Fame and author of the Oklahoma Music Guide Dr. Hugh Foley says Chicago blues musicians didn't like Fulson's use of horns in his band.
"People kind of made fun of him – they called it 'uptown blues.' It was a gritty, urban blues emsemble – meaning electric guitar, electric bass, drums, but he added the horns section, which to that point was not part of Chicago Blues. The only amplified wind instrument would be the harmonica."
Foley says that style, created by Fulson, became a big influence on B.B. King.
"That style ultimately becomes embraced by B.B. King. That is the style that B.B. King goes on to make famous and you'll remember that B.B. King was a DJ in Memphis, where he was playing Lowell Fulson records. That's why Lowell Fulson's 'Every Day I Get the Blues' becomes B.B. King's theme song for many, many, many years. It was that uptown style of blues that was really started by Lowell Fulson."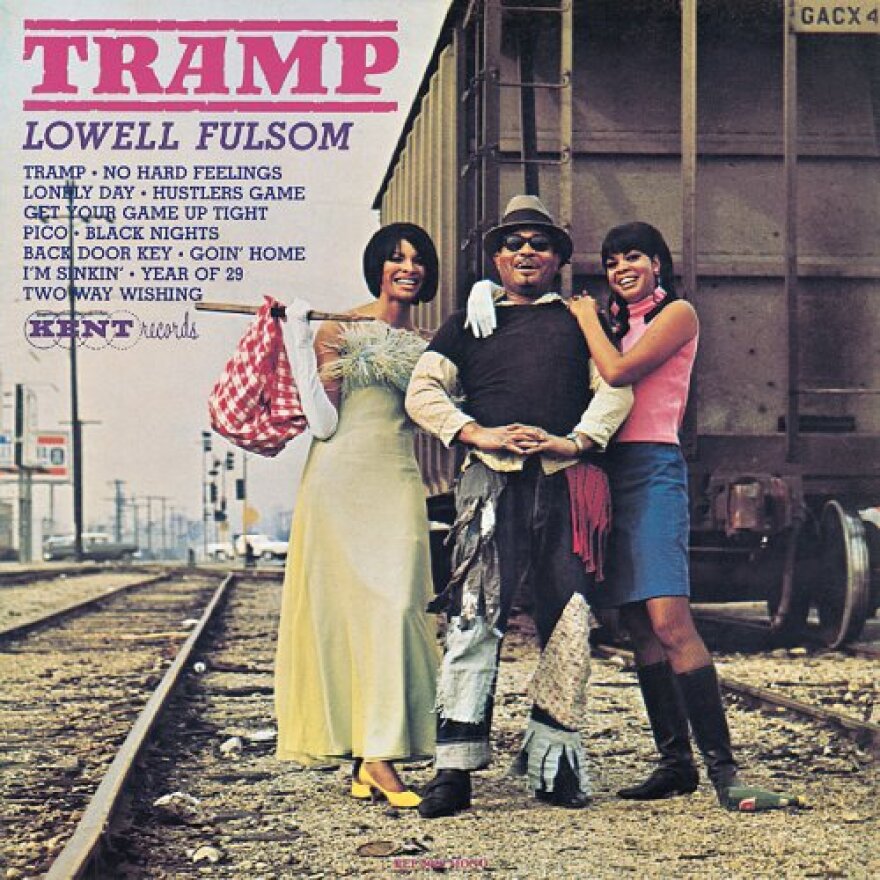 Fulson moved on to Kent Records in the mid-60s, releasing the number five R&B track "Tramp," with a change of his last name to Fulsom. De La Soul, Wu-Tang Clan, House of Pain, and Cypress Hill would later sample "Tramp," and Salt N Pepawould record their own version on their 1987 album, Hot, Cool & Vicious.
Fulson's popularity waned after the 1960s, but he continued recording until his death in 1999. Since then, music scholars have positioned Fulson as one of the most important figures in West Coast, or uptown, blues.
Fulson will be inducted posthumously to the Oklahoma Music Hall of Fame on Saturday night at Cain's Ballroom in Tulsa. Other inductees to the 2014 class include guitarist J.J. Cale, blues guitarist Elvin Bishop, and drummers Jim Keltner and Chuck Blackwell.
We'll have reports on the other inductees throughout the week.